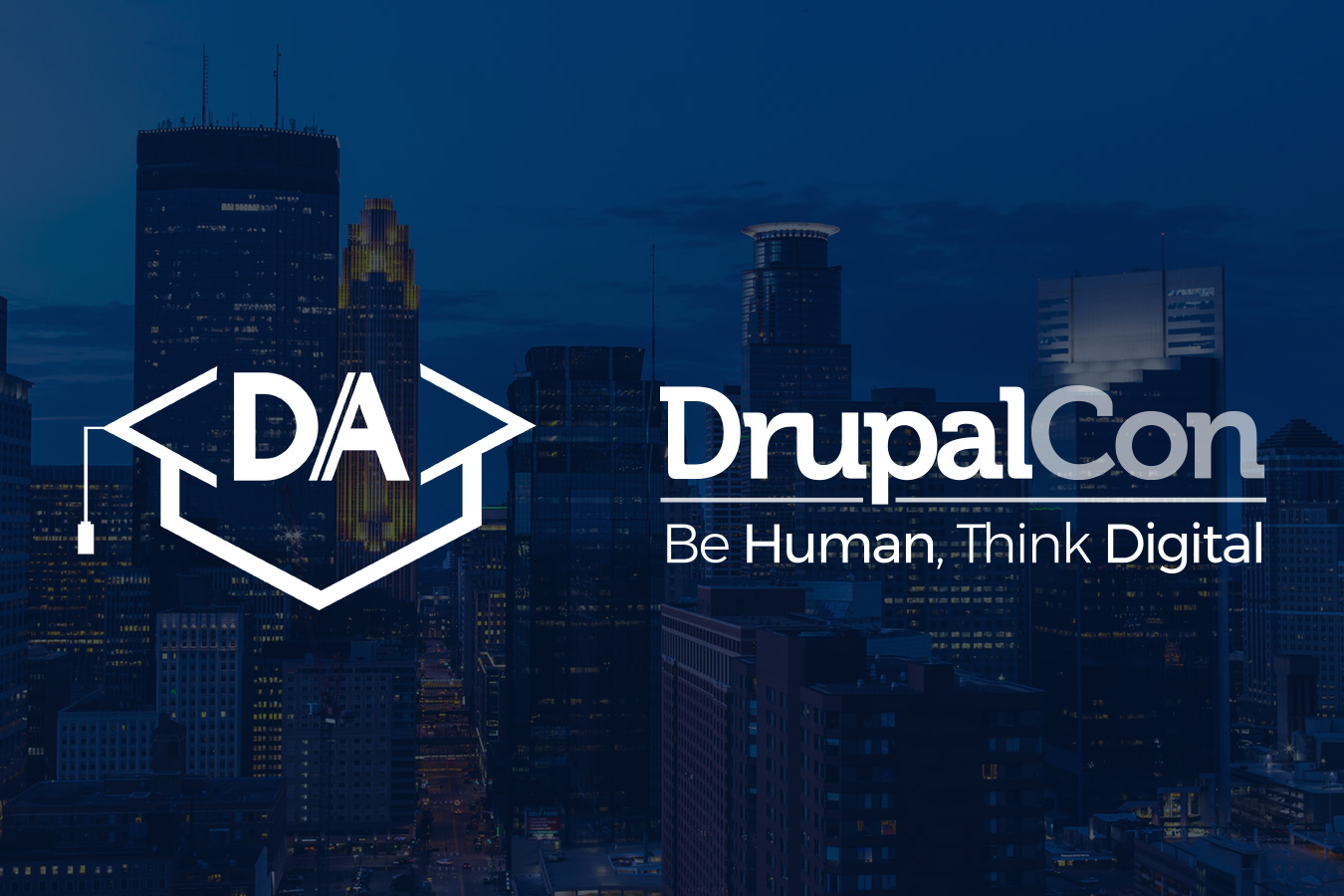 It is a tradition at Debug Academy to take time out of our busy schedules to attend DrupalCon. We do it because we enjoy immersing ourselves in a community of like-minded individuals that come together with a common cause, like the continuous improvement of open source projects/code. It also gives us the opportunity to meet new people and reconnect with alumni, colleagues, and community friends.
Debug Academy Drupal experts are teaming up to share a variety of tips, tricks, and Drupal insights to help progress the careers of our community members. We are looking forward to continuing to help people advance in their own journey, beyond the doors of Debug Academy, by giving training sessions and talks at DrupalCon. 
Training
Make sure you get to Minneapolis early, because Debug Academy team members will be leading three training sessions at this year's DrupalCon.
In this training Debug Academy CEO, Ashraf Abed, will lead a working session to boost a section of our Drupal 8 website by building a ReactJS App. We'll modify an existing Drupal 8 website to prepare it for integration with a decoupled application. Come ready to understand the benefits of ReactJS within Drupal and how using the Rect app in conjunction with Drupal core and contrib, we can elevate your Drupal 8 application.
Training Details:
May 18th
9am - 5pm
Drupal 8 and ReactJS training full description.
Register now for Elevate your Drupal 8 application with ReactJS at DrupalCon.
Debug Academy CEO, Ashraf Abed will lead an all-day training to take your ReactJS skills a step further in Drupal. Don't miss out on a day packed with techniques for dealing with non-trivial scenarios you may encounter when using ReactJS in Drupal.
Training Details:
May 19th
9am - 5pm
Advanced ReactJS for Drupal 8 full description.
Register for advanced ReactJS at DrupalCon now.
 
Drupal Web Developer & Instructor, Lisa McCray, and Senior Drupal Developer Omar Abed will lead an all-day training for Drupal 7 experts making the leap to Drupal 8. We'll take the knowledge you have of Drupal 7 and apply that to building a non-trivial Drupal 8 module. At the end of the training, you'll leave with a better understanding of Drupal 8 module development through Object Oriented Programming (OOP).
Training Details:
May 19th
9am - 5pm
Advanced module development full description.
Register for Advanced module development with OOP at DrupalCon now.
 
Sessions
Now that the session announcements have been made, we want to invite you to join us for the sessions we will be giving this year. 
Debug Academy CEO, Ashraf Abed, and Drupal Web Developer & Instructor, Jack Garratt, are going to explore the depths of contribution via an analysis of Drupal.tv as a project.
Drupal.tv is a free community resource with many Drupal conference videos. In this session, you will learn how Drupal.tv was built by Debug Academy students, the social side of credibly contributing for the first time, and the non-code collaboration involved. Even Dries Buytaert played a role in getting Drupal.tv where it is today.
Drupal Web Developer & Instructor Jack Garratt and Senior Drupal Developer Omar Abed are co-leading a session on the path to proper module selection. This talk will dive into the deep world of Drupal contributed modules and explore methodologies associated with picking the one that works best for you.
See You Soon
After every DrupalCon we leave with far more knowledge than we had going in, and far more connections and contributors than we ever thought possible...every single time. That's why we can't wait to join everyone again this year for DrupalCon 2020 in Minneapolis.