Overview
This course helps to prepare you for the sought after "Acquia Certified Front End Specialist" Drupal 9 exam. Get access to live instruction, code examples, Q&A, take home exercises, curated links, AND a practice exam. This is the best way to prepare and assess your own readiness for Acquia's Certified Front End Specialist exam. The course material has been prepared by Debug Academy's team of Acquia Certified Front End developers, including a certified Drupal Grand Master; Debug Academy is an official Acquia training partner.
Who is this for?
Developers looking for a refresher and condensed ramp-up for the Acquia Certified Front End Specialist exam
Not designed for Drupal 9 beginners
People with 6+ months of experience with Drupal development
People with theming experience in Drupal 8 or 9
People looking to assess their readiness for the Acquia Certified Front End Specialist exam
People looking to take a practice exam on topics covered in the Acquia Certified Front End Specialist exam
Course Image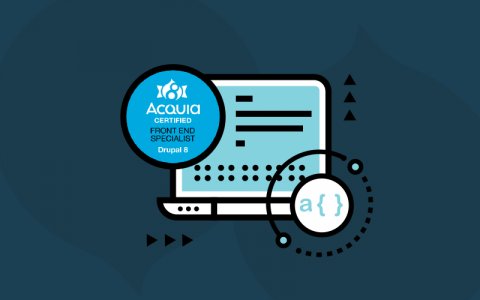 Why This Course?
The "Acquia Certified Front End Specialist exam" is the de facto standard for Drupal front end developers
We cover a significant amount of material in a condensed format
Divided into four, 90-minute sessions for easy consumption
Extensive homework tasks to implement concepts covered on the exam
Take-home code samples and exercises in a Drupal 9 codebase
Curated links to reading material to further comprehension
Access to class recordings
Slack channel to study with other exam takers.
Opportunity to complete Debug Academy's assessment (quiz) to determine your strengths and weaknesses with the material
Kind, empathetic, knowledgeable teachers who have passed the certification exam themselves
A Better Way To Learn
Previous graduates built debugacademy.com, debugsociety.com, and more live websites!
Our personalized approach to teaching allows us to cater to individual student strengths and interests. Students are part of a real development team working on real projects. You'll even leave with a working portfolio and applied experience on a software project led by a senior developer.
Meet Your Instructor
At Debug Academy, we make sure we've got the right to give you the best education possible. Our instructors are renowned experts who lead with empathy to ensure a quality learning experience for everyone.
Ashraf Abed is a certified Drupal 7 & 8 Triple Certified Expert, and a former Technical Architect at Acquia. He is involved in numerous enterprise development projects and has been fortunate enough to experience working as the lead developer on websites like Whitehouse.Gov and other prominent Drupal websites. Teaching is his passion.
Take the Next Step!
Let us know that you're interested in this course. We'll reach out to you and other interested individuals with next steps!